We've all heard that Instagram "Stories" are all the rage. But where to begin? Here are all the arguments and tips you need to publish your first 15-second story.
Creating Instagram Stories with Storykit is THE easiest thing. Get a demo now!‍
The use of Instagram Stories has exploded and for us marketers, there is just one thing we can do: dive right into it. Are you not convinced? Let's have a look at some numbers.
Why you should use Instagram Stories
500 million Instagram users check out their Stories every day.

33% of the most viewed stories come from businesses

One in five Stories gets a direct message from its viewers
Ok, so if we all agree that Instagram Stories is worth a try, our next step is to understand that there are some fundamental differences in how Stories work, versus other types of social media storytelling and social media posts.
How Instagram Stories works
It is vertical
Sure, we've been talking vertical video on social media for years, but in Stories it's not just an option, it's more or less mandatory.
It's fast
As an advertiser, you have 15 seconds to tell your story if you don't split the video in different Story parts. This means, of course, that all stories do not fit here and that you have to be fast-paced in your communication. (In addition, viewers often drop off after about four seconds, so we mean really fast.)
It is now
Insta stories disappear after 24 hours, so your storytelling is truly NOW. If you don't save your story in "Highlights" on your profile.
It happens with sound
On most social platforms, users keep the sound turned off. On Facebook, about 85% of the videos are watched without sound. In Stories, on the other hand, 60% of viewers choose to have the sound ON.
So, now it's time to actually produce your first story. Feeling a little bit hesitant about this? Don't! Trying stuff out is the only way to learn new things, and nothing is perfect the first time, so just get on with it.
7 ideas to start using Instagram Stories for business
1. Use your existing material
When Hootsuite created their first ads in Instagram Stories, they chose to use material they already had. And this is a great idea: it's probably the very best place to start, in order to quickly get the material out and test what works.
2. Create videos
We're not just saying this because we love video, but rather because surveys show that users engage in video material 5x longer than in still images.
3. Give a sneak peek behind the scenes
The Stories format is ideal for authentic material. Let your users have a look behind the scenes when you do something interesting. For example, an event, a product release or something else you want to talk about.
4. Teach us something
Can you do a quick tutorial? Of course you can! This is a great way to create real value for your users. Find inspiration on content in your content strategy.
5. Stay close to your product
In Stories it's more ok than usual to show your product and your brand in a way that you might otherwise avoid in social media. Remember to add links, tags and a clear call to action and see what happens!
6. Answer questions
Take the opportunity to do a Q&A in Stories. Quick questions, quick answers, high value.
7. Tell stories
Of course you can tell a story in 15 seconds. It requires only a little creativity and some focus. Try it out!
Bonus tips on how to use Instagram Stories
Make sure you use the right format (9:16) and cover the whole screen to maximise impression.

Post often so you pop up in the story feed.

Be up to date and talk about what's happening right now.

Recommend posts you've published in the news feed, some might have missed it.
Use interactive stickers or encourage your audience to interact with your brand through questions etc.
Save your Stories into categorized Highlights if you publish content with a long lifespan that doesn't go out date (so-called "Evergreen content"). It will give your brand and audience more long-term value.
Read our guide "Marketing on Instagram – everything you need to know" for more inspiration!
Want to read more?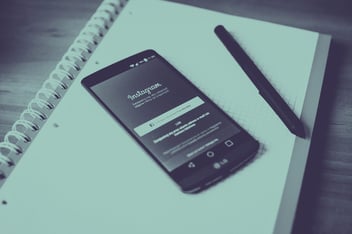 December 9, 2019
One second. That's how much time you need to catch someone's attention before your reader has scrolled by. Here is everything you need to know to communicate with your customers on Instagram – successfully. Instagram users are fast scrollers....