It just takes a few seconds to go from script to finalized video with Storykit. What's the secret? A supersmart AI.
– When you have written your script there's not much more that needs to be done, says Fredrik Strömberg, VP Product at Storykit.
One of the reasons why Storykit is such a unique video tool is that you create your video on a storyboard, and the video is then completed by Storykit. Thanks to this, the tool is perfect for people who are used to working with text and it allows for a very smooth and simple creative process.
– You don't need to know a thing about video production to create videos in Storykit, says Fredrik Strömberg, VP Product at Storykit.
Working with storyboards in this manner also makes it a lot easier to manage your content. Creating new versions of your video, making duplicates, recycling of material; everything is done in a blink.
– If you work with traditional video software and someone asks you, "Can I have that video you made for the Christmas campaign last year? I would like to make a few edits and make a new export," it would be a hassle to find that heavy original file again – if you even have it – and to make edits. If you work with storyboards, you can easily open the same storyboard in Storykit, make your edits, and quickly render a new video.
Introducing: AI for video
Storykit is now using a very intelligent AI for even more steps in the creative process, which allows for an even smoother process.
– If you write a text and paste it into the software, Storykit delivers an almost complete storyboard within a few seconds.
Storykit doesn't render the final video until it has been approved by the user.
– Regardless of how perfect the AI's storyboard is, you might still want to make some edits, such as using another slide, colour, or make some other creative adjustments. The final decision needs to be yours and that's why you get to click on the button when you are completely satisfied.
If you want a video even faster, you can just paste a URL into Storykit. The software creates a storyboard based on the text on the website.
– It's a very exciting way to create video – and it obviously saves you a lot of time – but in all honesty, you usually need a bit more than an article from a website to create a really great video.
If you want to create a really great video, you should dedicate some time and energy to writing an effective script. The rest is done in a blink.
– When you have written your script there's not much more that needs to be done, says Fredrik Strömberg.
5 things Storykit does with the help of AI
1) Interprets your text
Storykit analyses and interprets your text. By defining certain parts of your text and categorising them into various elements, such as headlines, subheadings, quotes and lists, a suitable dramaturgy is established.
2) Creates a layout
Slides are created based on your text, and some slides are also grouped together for a cohesive storyline. The parameters have a lot of variations and you get different storyboards each time you use the text.
3) Sets duration for each slide
It can be hard to set the right duration in seconds for each slide. Sometimes we set the speed to high, because we "know" our scripts, and it's also not a great idea to make it too slow. For this reason, Storykit calculates the appropriate duration based on how long it would take to read the text on the slide out loud.
4) Adds styling and behavior
Storykit also makes sure to add styling and behaviour for your assets, which usually makes your video look even better. But since styling comes down to personal preferences this is an optional feature. Create a storyboard without styling if you prefer.
5) Chooses the music
Storykit will also suggest a song with just the right length for your video. Check if it fits!
Want to read more?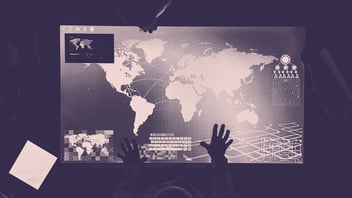 March 4, 2020
What steps do you need to take in order to reach the entire world with a complex product? According to IT security company foreseeti, the answer is simple: make videos in Storykit.