The week before Christmas probably felt like the perfect time to set new, sky-high goals for massive social media success in 2020. But halfway into January, panic is already creeping in: how on earth am I supposed to reach these goals? Just take it easy and read on for some helpful tips that will help you get there.
Isn't it typical? We spend the last week before Christmas planning for the coming year, with unrealistic expectations: 'Of course we'll increase our Facebook shares by 1000% next year, and we'll be wildly successful on Instagram too and get insane amounts of LinkedIn followers…' Then comes January, when we finally sit down and count the weeks and the days, looking at the cold truth. That's when we realise that in order reach the success, that the boss is now expecting of you, some serious work needs to be done.
What to do? We have the same problem here. (Don't ask me why I said, 'For SURE!' when the boss asked me if my plans for 2020 were realistic). That's why we decided to write this article with our top tips - to calm us all down and get to business.
Want to know more about Storykit? We'd love to do a demo!
1) Create a strategy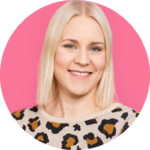 Karolina Winquist
Ok, ok, I know! We've heard this a million times, but it's because it's true. And this is also important for social media. Few people manage to create a continuous flow of engagement on social media platforms simply by throwing out some stuff and hoping for the best. If you want to read more about how you can build a strong content strategy for social channels, click here to get top tips from expert Karolina Winqvist.
2) Find your stories
The key to social media success is not to overwhelm your followers with ads and nonsense, but rather to give them content of real value. Unfortunately, many people believe that they don't have any good stories to tell, which is never the case. EVERYONE has great stories to tell. It's just a matter of digging them out. Someone who knows a lot about this subject is Melanie Deziel, commercial storytelling pioneer, and in this article she shares some very helpful tips.
3) Start working with video
We are certainly not impartial, but there is plenty of proof showing that video is the number one way to reach social media users. It's 27 times more likely that a user clicks on a video than a banner, and in users' feeds, video is shared 1200% more often than text and photos combined! Those are some insane statistics. If you need more numbers to convince yourself/your boss/your colleagues/your grandma, this is a real goldmine. (And if you need the optimal tool to increase your video production radically, we would love to tell you all about one.)
4) Conscious distribution
Let's be honest: the days when we could just post a Facebook update on the company page, lean back and watch the post fly across the world through organic distribution is over. So, what are we supposed to do? The answer is simple: Give your posts a little nudge in the right direction with the help of paid distribution.
You will be able to aim your efforts in the right direction, reaching the right audiences, and stop praying to the heavens for an intervention. Click here to read about how to build an effective audience, click here to know what you should avoid when you sponsor posts on Facebook, and here we crush 5 myths about paid content in social channels.
And guys, can we please let 2020 be the year when we finally stop feeling ashamed of boosting posts?
5) Be bold
As marketers we are really good at creating solid plans, discuss the best solutions, do budgets, and buy the right tools. But we still have to take ACTION - produce and publish - for things to move forwards. And this is especially true when it comes to social media. So, stop obsessing over finding the right inspiration or get the right mandate from the boss. And first and foremost, stop trying to create the perfect post or the best video ever. Just do it. Now.
Still feeling overwhelmed? Read our 6 tips on how to become even more productive in your social channels!