When you want to find great images and videos for your content, it tends to be either expensive and easy, or difficult and cheap. In this article we have put together ten tips, and then another three tips, plus 20 bonus tips, that you can use to find great images and videos that won't cost you a penny!
Want to try a tool that we guarantee will boost your video production? Let us know!
Once you start producing and creating videos you will have an urgent need for images and video content . If you're a Storykit user, you can choose directly from specific stock-libraries. But, sometimes you might have the perfect manuscript yet lacking the necessary assets. We are here to tell you that you can relax – there is an ocean of great and free images and video material on the web, available at your fingertips.
But first, how does copyright work?
Content that is completely free and does not require attribution is the easiest type of material to use when you make a video. It means that you can use the images and the video footage however you want, without even mentioning the name of the creator.
Creative Commons licenses
It is important to respect the copyright license, regardless of whether you are paying for the license with money or not. Our tips include several sources that offer content with a CC0 license. CC stands for Creative Commons, and this license is often used for creative content which is distributed online. There are different types of licenses available, but CC0 means that it is completely free to use and that it does not even require any attribution.
The other license from Creative Commons you should be aware of is CC-BY license. In this case you can use the content, even for commercial purposes, but you have to mention the source in a specific way. When you create with Storykit Video Studio you handle this type of content by filling in the "Credit"-field available for each image or video, and you also have to keep the option "Credit information" active in the side panel. Read more about the different licenses on Creative Commons' website.
The range of free video content has increased remarkably during the last few years and today it is possible to find very good content with CC0 license or simple attribution models. The selection of images is even larger. These are some of our favourites.
Sites with free stock video content (sometimes also images)
1. Pexels Video and Pexels (Video and images)

If Pixabay, which we mention below, is a big site, Pexels is something for the connoisseurs. They have a clear focus on high quality when it comes to both video and images. Their license model is CC0, which means that everything is free to use. Pexels is a very rewarding site for both images and videos, because they have so much incredible content available.
2. Pixabay (Video and images)

Pixabay is something of a giant when it comes to free content online. With over 1,6 million images and videos (or that is probably the amount of images available and when it comes to video you have a few thousand to choose from) which are all free to download. The quality is not always fantastic, but they have a lot of good content to offer, and above all, amazing variation. Everything on Pixabay is CC0 and free to use.
3. Videvo (Video)
Videvo is a service which also offers a pretty large amount of free video content – the videos are well-made and of decent quality. You will also find lots of great "conceptual" films, often called motion graphics, which have a certain abstract quality to them. They work really well as background imagery for content that can otherwise be difficult to find suitable content for. You can become a member on Videvo if you want to, but it is not required.
4. Pond5 – Public domain (Video and images)
Pond5 normally charge for their content, but they also have a section on their site dedicated to content with expired copyright licenses, which now belongs to what is called "the public domain". This content is free to use, but it is not always clear whether it can be used for commercial purposes or not. It is, however, allowed to use it for editorial purposes. To download on this site, you have to create an account, but it will not cost you anything.
5. Coverr (Video)
Coverr is a service which seems to focus mainly on background videos for websites – but these videos can be used in many different ways. Most videos you will find here works really well for abstract ideas. But the quality is high. All videos are free to use without attribution. When you download content from Coverr you will get several files in your download, but it is the .mp4-file that you will use.
Sites with free stock images
6. Unsplash: A giant with high quality
Unsplash is something a giant when it comes to finding very good images that are completely free. The license works like this: no cost, no attribution needed. And they offer lots of very good-looking images in a variety of genres. Unsplash truly is a giant in this way and deserves a spot on your list of favourites. You can create an account if you want to – but it is not a requirement when you download their images.
7. Foodies Feed: Small but oh so good

If a site that only has pretty images of food sounds good to you, we suggest that you visit Foodies Feed. Even if they only have around 1000 images, they are all food-related – and very pretty. It is a special site. Everything has a CC0-license, which means that it is completely free to download and use at your heart's desire.
8. Stocksnap.io: Good and extensive, just keep one thing in mind

Stocksnap offers lots of great images with a CC0-license, which means that it is free and you can use it however you want to. It is a great site with good search tools, but just keep in mind that they mix in hits from Shutterstock – which is not free – in the search results. Several other sites do this as well and it is how they generate their income. The images from Shutterstock are labelled, so you can easily spot them in your search results and choose to go for Stocksnap's free images instead.
9. Burst: Created for commercial purposes
Burst is a service that is run by the e-shopping platform Shopify, and as such, it has a natural connection to the commercial side of creativity. Burst offers lots of images chosen for their ability to entice the right emotions for sales purposes. Great service and all images are free and require no attribution.
10. Gratisography: Cool boutique site
This is site it slightly smaller, but they offer gorgeous images that are completely free to use. You will find artistic images with a celebratory flair on this site. It is a great site when you need an image that can truly wow your audience.
The big content platforms
Something we haven't included in the list above, but is definitely worth taking a look at, is direct searches on the big platforms such as YouTube, Vimeo and Flickr. You will find lots of material that you can use there. We have excluded them from the list above because it can be a bit hard to find content that you can use with 100% certainty without breaking any copyright laws. But there are also ways to navigate these sites to find videos and images with a CC0-license.
Vimeo
It is easy to find CC0 and CC-BY content on Vimeo. Just do a normal search and add a search filter to organise the hits according to their licensing model.
When you have entered your search term you can add your filters on the left-hand side. If you click on "More" or "More filters" you will see a list of the available licensing models, including CC0 and CC-BY.
You can also change the settings for the "Mature" content and adjust that however you want. Many people who upload videos and images play it safe and label their content "Mature", which means that the hits won't show up in the search results.
YouTube
YouTube offers users to choose a CC-BY license.
This is how you can find those videos: Do a search like you normally would. When you have your search results, click on "Filter" above the list on the right-hand side.
Under the title "Features" you should see a row marked "Creative Commons". If you click on that you will only see videos with a CC-BY-license.
A little pro tip here is to write "searchterm,creativecommons" in the search field (yes, one word and without the quotation marks) to get the right results immediately. And remember, this license requires an attribution.
Flickr
On the enormous image site Flickr you will find heaps of content with CC0 or CC-BY license.
When you do a search there you will see a little menu on the left-hand side on top of the search results, where you can choose your licensing model. The default mode is "Any license". This list of licenses can appear to be a bit cryptic at first, but the choice that gives you the most flexibility is the one called "No known copyright restrictions" (CC0).
You can also choose "Commercial use & mods allowed" which appears to be restricted to content with CC-BY license.
Be careful with the licenses
Just a little word of warning – there is a model called CC-BY-SA, which allows you to use the content commercially if you give the proper attribution AND apply the same license to your own creation. This may not be a good solution if you are working on a project which will be licensed in a different way. But this is of course entirely up to you. Just a heads up.
BONUS: let's continue with 18 more tips!
As mentioned before, there is a huge number of stock websites available – especially if you are looking for free images. So, we want to give you another valuable list; a long list of sites that claim to offer free images.
When it comes to these sites, we suggest that you give them a go and see for yourself if you find something that is valuable to you. Who knows, you might find a new favourite.
Public Domain Pictures: http://www.publicdomainpictures.net
FOCA Stock: https://focastock.com/
Kaboompics: https://kaboompics.com
Death to Stock: https://deathtothestockphoto.com
Freestocks: https://freestocks.org
Styled Stock: https://styledstock.co
1 Million Free Pictures: http://www.1millionfreepictures.com
Splitshire: http://www.splitshire.com
Life of Pix: https://www.lifeofpix.com
Picjumbo: https://picjumbo.com
PD Pics: http://pdpics.com
Picography: https://picography.co
Epicantus: http://epicantus.tumblr.com
Pickup Image: http://pickupimage.com
Skitterphoto: https://skitterphoto.com
Picdrome: http://www.picdrome.com
Jay Mantri: http://jaymantri.com
Splashbase: http://www.splashbase.co
If you're ready to start creating your own videos, get all the pro-tips in our Video Creation Guide!
Want to read more?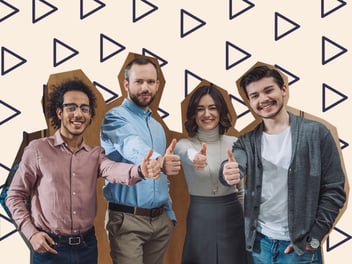 January 26, 2022
You all know you don't need to use images or video clips to create videos in Storykit. Write a good script, and you're pretty much good to go. But when you DO want to use images or video clips, we all want to find them as fast as possible! That is...